Friday, October 29, 2010
NRA-PVF endorses Anna Little for Congress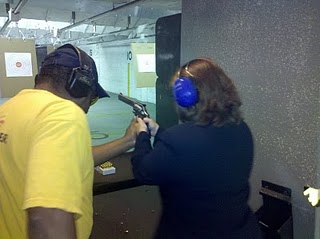 ... and the Anna Little endorsements continue to roll in. To the left is a picture of Anna Little back in May at ShoreShot pistol range in Lakewood, NJ shooting .357s out my S&W 686 revolver.
In an email to NRA members this morning:
Vote Freedom First - Vote ANNA LITTLE for CONGRESS
October 28, 2010
Dear James Hogan:
The NRA-PVF (www.NRAPVF.org) has endorsed Anna Little for Congress. It is critical that you vote for Anna Little for Congress, and urge your family and friends to do the same. We need to bolster our ranks in Congress to keep this White House from pursuing an anti-gun agenda after the 2010 elections.
That's why it's more important than ever that we elect Anna Little to Congress to help build a pro-gun firewall around our Second Amendment rights. Anna Little is rated an "AQ" by the NRA-PVF for her pro-gun responses to our federal candidate questionnaire, and she is committed to opposing federal gun control and supporting pro-gun reforms.
By contrast, his opponent - Congressman Frank Pallone - has earned an "F" rating every election for his extremist anti-gun record in Congress. He has voted to ban semi-automatic firearms, regulate gun shows out of business, and allow bogus lawsuits against firearms manufacturers. Pallone voted against repealing the gun ban and restoring self-defense in our nation's capital and against forcing reform of the federal Bureau of Alcohol, Tobacco, Firearms and Explosives. Pallone is so radical that he voted against prohibiting gun confiscation during states of emergency and against allowing commercial airline pilots to be armed in the cockpit and defend their crew and passengers against terrorism.
The choice is clear! All gun owners and sportsmen in New Jersey's sixth congressional district should support Anna Little on Election Day. If you can volunteer to help, please contact her campaign at www.AnnaLittleForCongress.com and 732-658-5461. Also spread the word to your family, friends, and fellow gun owners. And on November 2,Vote Freedom First - Vote Anna Little for Congress!

Sincerely Chris W. Cox - NATIONAL RIFLE ASSOCIATION INSTITUTE FOR LEGISLATIVE ACTION